I recently read an article about how beneficial drinking a glass of lemon water (water with 1 whole lemon squeezed into) first thing in the morning.   I have always preached this mostly to my weight-loss clients who were struggling with sugar and salt addictions.  Having been previously a sugar addict, and still recovering I know first-hand how well lemon works to re-balance the body.   Lemon water seems to take the cravings away, perhaps making your body more alkaline (even though a lemon is actually acidic).   I would also use it as a recovery drink if I had eaten bad things it would seem to erase the pattern and help me to curb the addiction.   Lemon is also a great cleanser for the body and is helpful to the liver.
After I read the article on lemon water I saw another on cayenne pepper and how useful it is to drink a glass of water with 1/4 tsp of cayenne in it.   I decided to try both in one glass.   It wasn't that bad.  I drank it down quickly and, yes, it was spicy.   I felt really good afterwards.   I work up with a low grade headache that morning and was feeling a little lethargic but NOT after that drink.   It was just what I needed this morning.   Given that positive experience I will be trying it each morning.   The health benefits of both definitely make it worthwhile.
Try this as part of your health regimen each morning and toast to all of us who strive for optimal health!  Cheers!
According to a leading health publication, TheAlternativeDaily.com: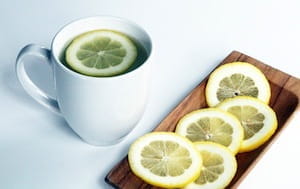 "The health promoting benefits of lemons are powerful. For centuries, it has been known that lemons contain powerful antibacterial, antiviral and immune boosting components. We know that lemons are a great digestive aid and liver cleanser. 
Lemons contain citric acid, magnesium, bioflavonoids, vitamin C, pectin, calcium and limonene, which supercharge our immunity so that the body can fight infection.
Lemons are considered one of the most alkalizing foods you can eat. This may seem untrue as they are acidic on their own. However, in the body, lemons are alkaline; the citric acid does not create acidity once it has been metabolized. The minerals in lemons are actually what helps to alkalize the blood.  Most people are too acidic (from eating too much sugar and grains), and drinking warm lemon water helps reduce overall acidity, drawing uric acid from the joints.
This reduces the pain and inflammation which many people feel. And the American Cancer Society recommends warm lemon water to encourage regular bowel movements."
Benefits that you can enjoy:
1. Improves your digestion:
Lemon juice helps your body improve digestion and stimulates bile production. Lemon juice can even be an aid for heartburn and indigestion.
2. Boosts your energy for the day:
Even just the scent of lemon juice has been shown to improve your mood and energy levels, and reduce anxiety.  Plus the detoxifying effect and alkalizing effect of fresh organic lemon juice can improve your energy through the removal of toxins from your body.
3. Helps you to lose fat:
Since lemon juice helps to improve your digestive system, aids in removal of toxins, and increases your energy levels, this all combines together to help you to lose body fat as well through improving your hormonal balance… Yet another reason to add warm lemon water to your daily morning routine!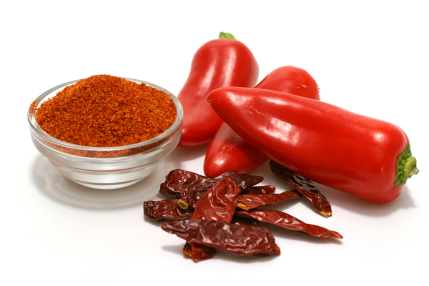 Cayenne peppers raise the body temperature as it stimulates circulation and blood flow to the skin. Herbs that promote fever and sweating are considered to have a diaphoretic (sweat-inducing) action which helps reduce fever and relieves the congestion of colds and sinusitis.
The active ingredient in cayenne is called capsaicin and in 2004, Dr. Sanjay K. Srivastava and colleagues (University of Pittsburgh School of Medicine) treated pancreatic cells with capsaicin. They found that it disrupted mitochondrial function and induced apoptosis (programmed cell death) in cancerous cells without affecting normal pancreatic cells!
The results of the study were published in the April 20, 2005, issue of Innovations Report, in which Dr. Srivastava stated: "Our results demonstrate that capsaicin is a potent anticancer agent, induces apoptosis in cancer cells and produces no significant damage to normal pancreatic cells, indicating its potential use as a novel chemotherapeutic agent for pancreatic cancer"
And if cayenne's cancer-fighting capabilities weren't enough, its effects upon the venous structure and heart are nothing short of miraculous. Cayenne is incredibly nourishing to the heart and has been known to stop heart attacks within 30 seconds.  If you want something in your first aid kit for a heart attack, carry cayenne tincture.
According to Dr. John R. Christopher, "In 35 years of practice, and working with the people and teaching, I have never on house calls lost one heart attack patient and the reason is, whenever I go in (if they are still breathing) I pour down them a cup of cayenne tea (a teaspoon of cayenne in a cup of hot water) and within minutes they are up and around."
In addition to being a welcome addition, there's also evidence to suggest that cayenne may be useful in the treatment of obesity. Results of one trial showed that consumption of 10 grams of cayenne pepper with meals helped to reduce appetite, while results of another revealed that cayenne increases the metabolism of dietary fats. Lastly, herbalists from centuries past would pour cayenne pepper directly on fresh wounds in order to sterilize and stop bleeding.
Many of us (over 90%) have worms or different parasites in our systems. One simple way to get rid of them is to have a "cayenne drink" daily. Fill up a glass with water or juice and then add 1/4 tsp of cayenne pepper. Stir it up and then "down the hatch." Yes, it's a bit spicy, but you'll get used to it.
As you can see, the amazing curative powers of cayenne are almost mind-boggling. Clearly, it is  a "wonder herb" that has scientifically proven its worth!  According to Dr. Richard Schulze, "If you master only one herb in your life, master cayenne pepper. It is more powerful than any other."